UPGRADE, UPDATE AND SUPPORT,
ALL IN ONE SUBSCRIPTION.
Hassle free access to the latest version of Pattern Designer and all its unique modules.

The only CAD solution provider offering penalty-free, subscription-based access to the software upgrade and updates. Online subscription, credit card payment, no hidden costs.

Our best software to-date now includes full access to all its unique modules.

Gemini X20 is our most advanced and the most comprehensive software solution to-date. From piece linking to complex grading and sophisticated product data sheets, every single feature of the software is designed to help you speed up and simplify your workflow.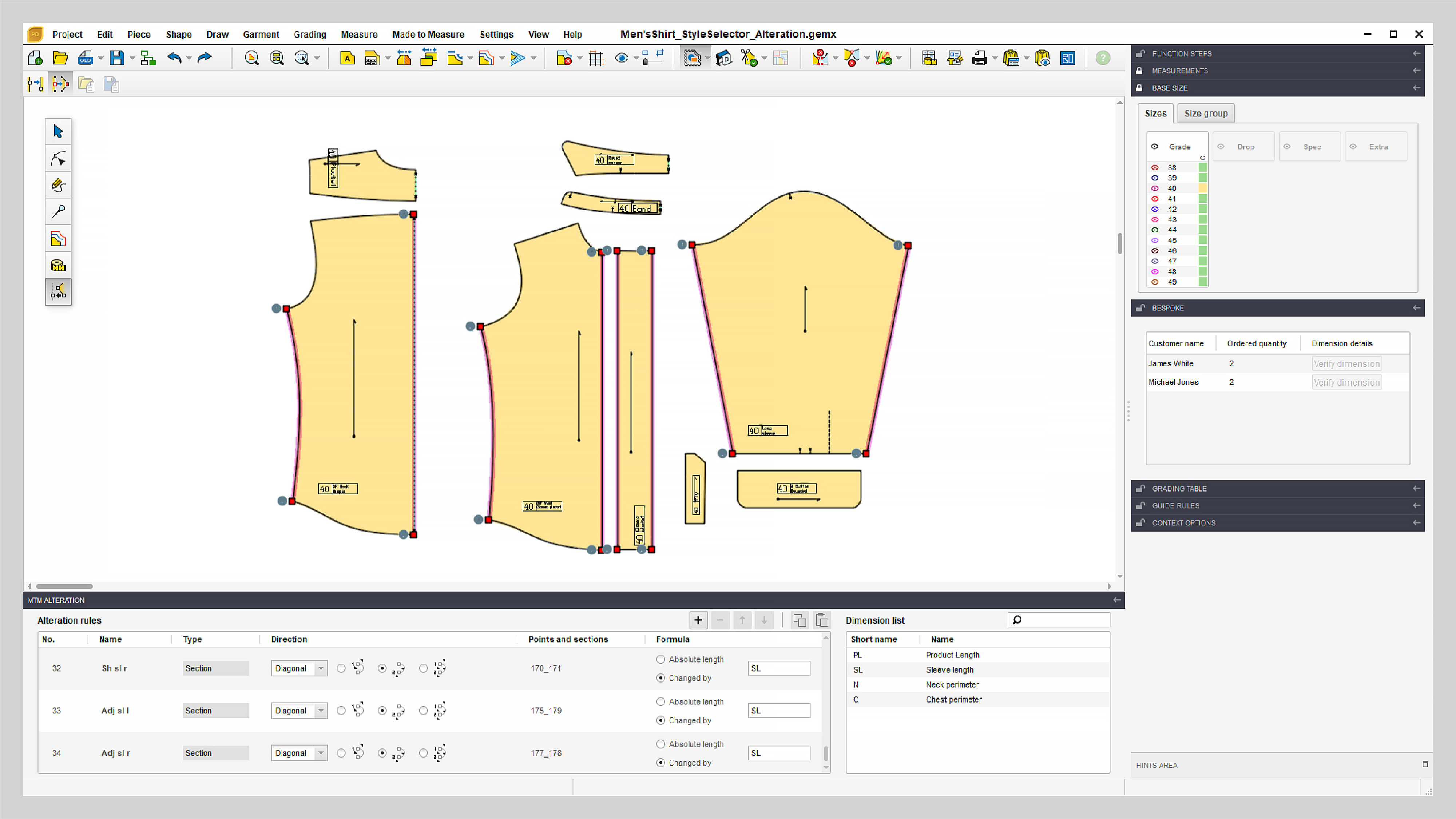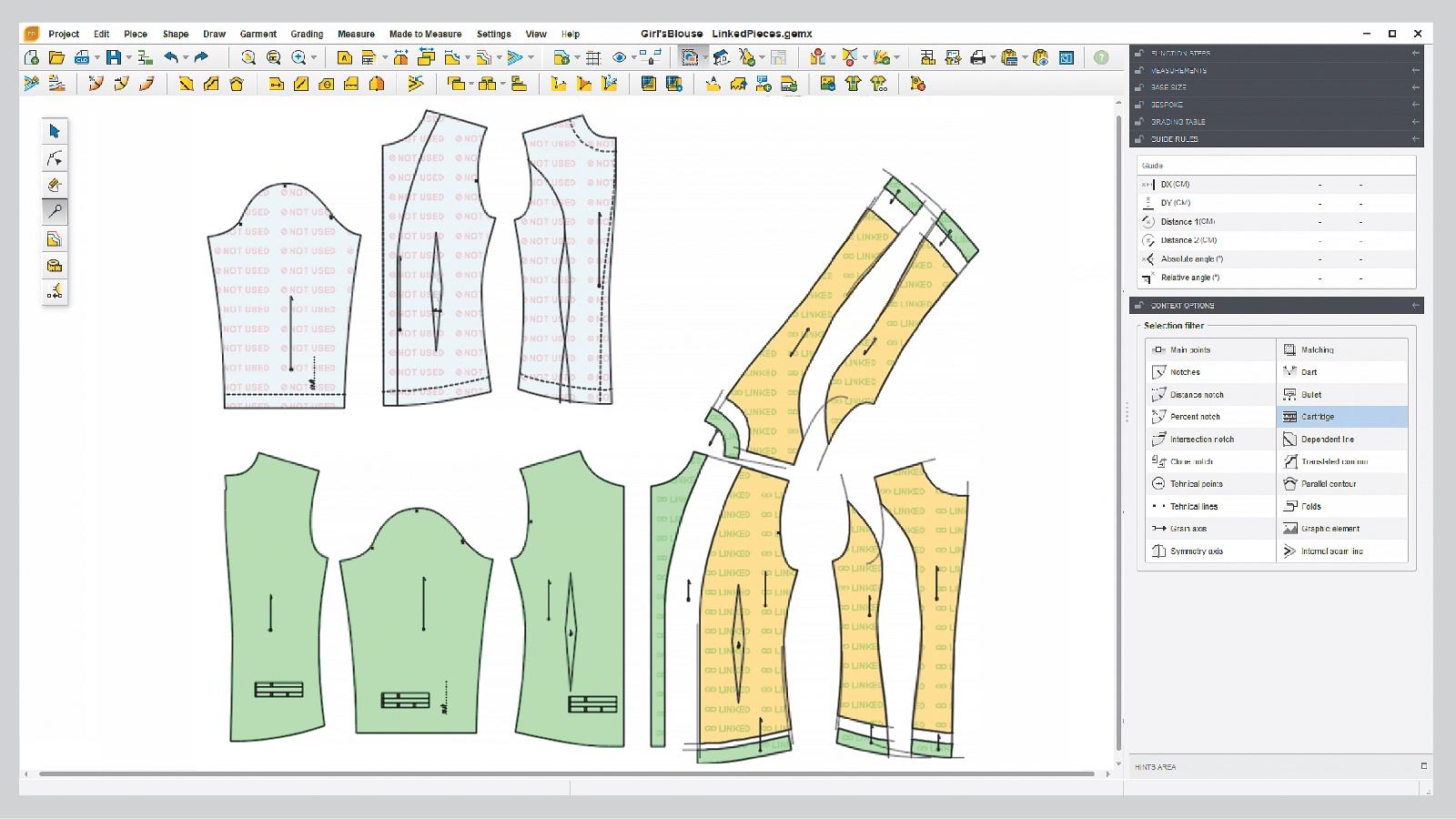 WORK IN A USER-FRIENDLY ENVIRONMENT

LINK PIECES TO PATTERN MAPS

Layout designed for multi-display. Customizable layout. User assistance with step-by-step functions.

Speed up pattern development by linking pieces to pattern maps. A change to a piece or map will instantly be reflected in all the linked pieces.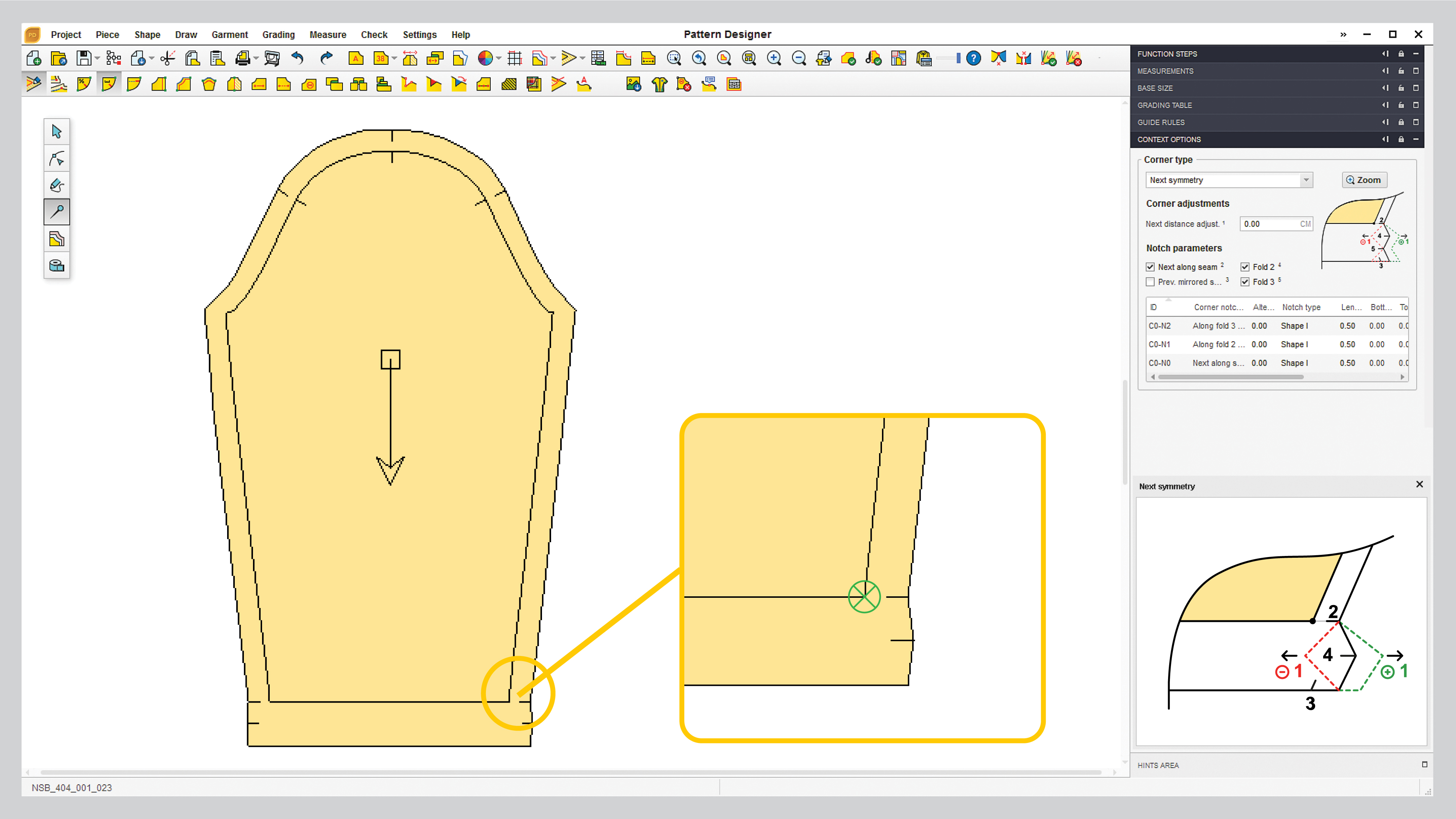 VISUALLY EDIT AND MANAGE SEAMS & CORNERS
VISUALLY EDIT AND MANAGE FOLDS

Speed up your workflow with automatic corner synchronization and access to a library of 28 customizable template corners and 3 types of seam allowances adapted for all types of extensions, from seams to cuffs and plackets.

Simplify fold development with access to a library of customizable, automatically adaptable template folds. Edit and adjust patterns in fold view.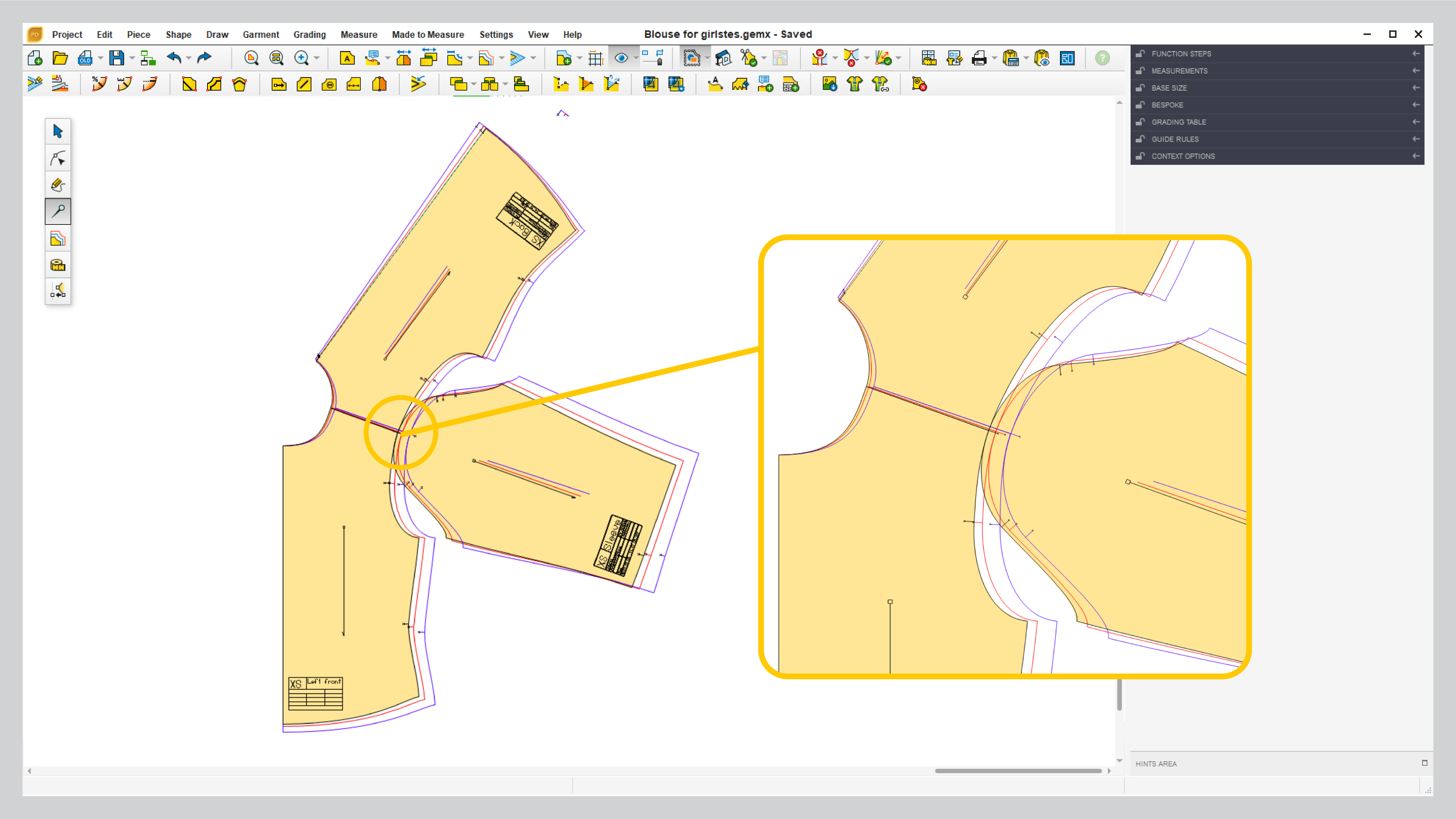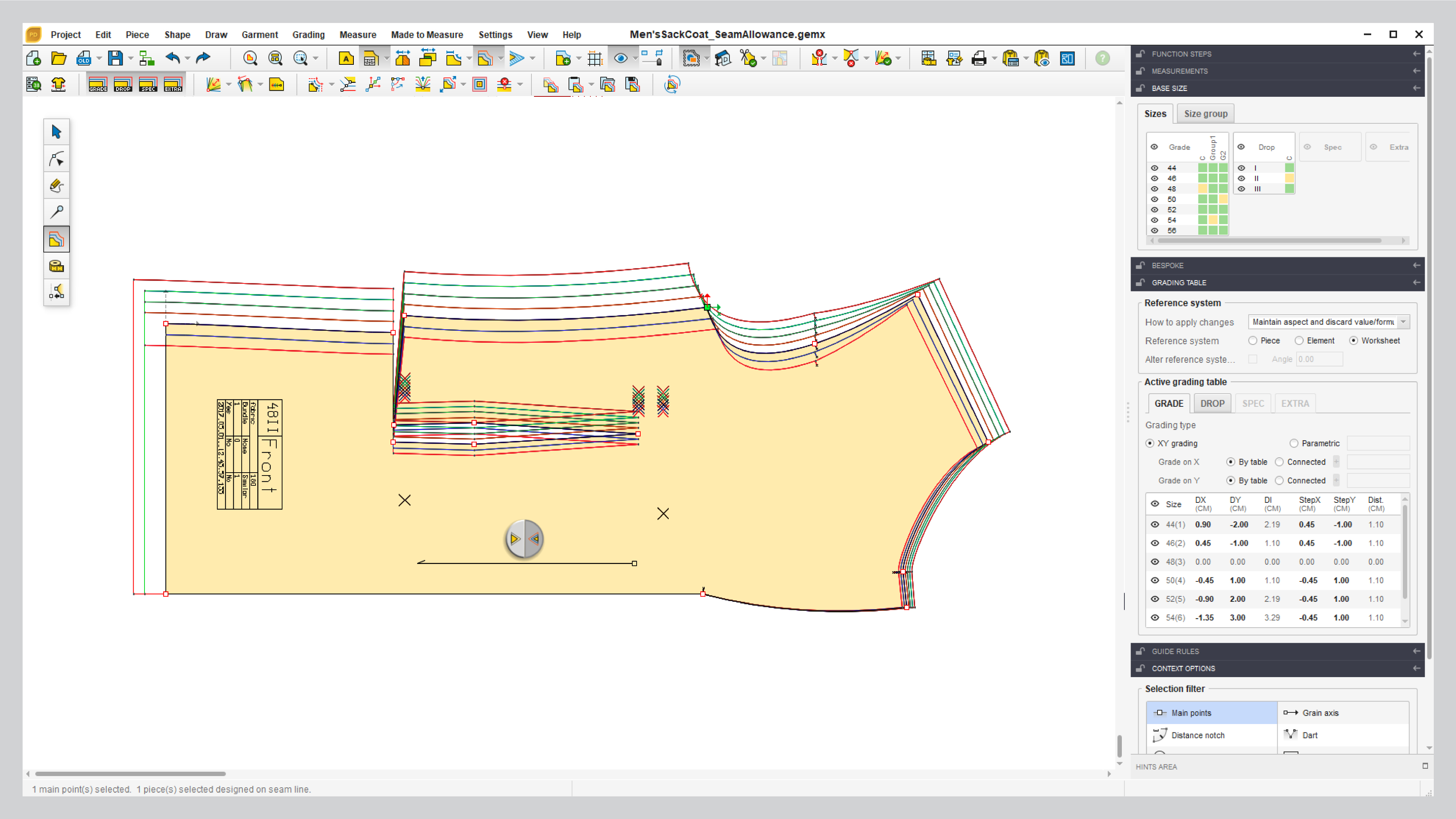 Check and edit any aspect of the piece by animating or manually walking the pieces along with related segments.
Simplify and speed up your grading with easy-to-use size management tools.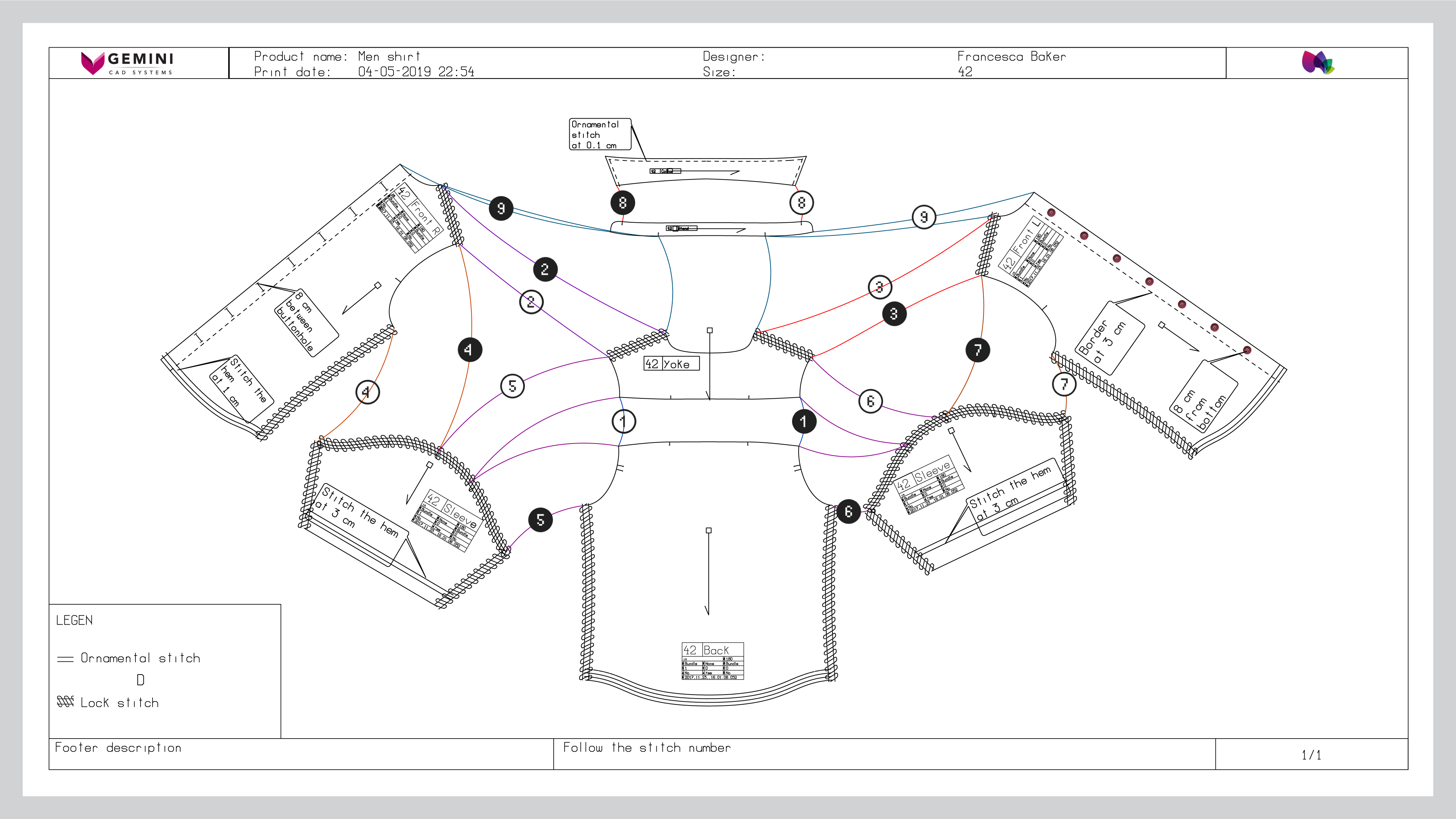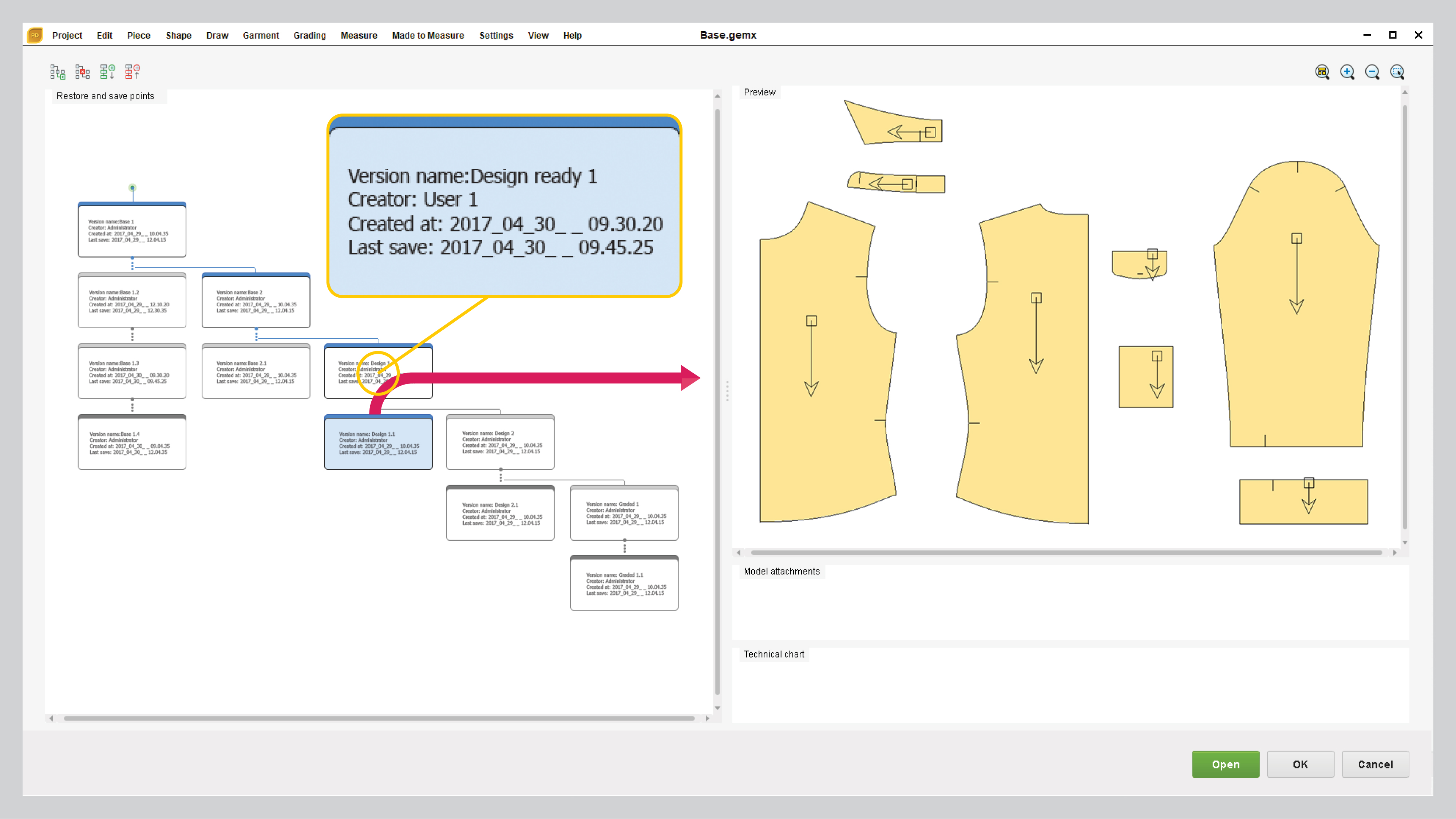 CREATE AND MANAGE PRODUCT DATA SHEETS INSIDE THE PATTERN FILE

TRACK CHANGES AND RESTORE EARLIER FILE VERSIONS

A complete set of tools to describe every aspect of the garment from trims and fabric to assembly instructions. It includes a dedicated pattern information and description area, fully customizable pattern stamp, stitch and assembly description tool and a sketch tool that makes it possible to draw, write and add trim related graphical content directly inside the pattern piece.
Track changes to the pattern file and rollback the model to any significant point in its development history.
Automatic access to our Support Services.

As part of our commitment to your success, we are happy to assist you in installing and configuring your updated software on all your workstations and making sure the roll-out is smooth and hassle free. For a more comprehensive support and faster response times, you can extend your service coverage by subscribing to our Premium Support. You can find more information on our Support Services here.

The price of the Update Subscription is 10% of the current value of your active licenses. To find out the exact, total value of your subscription, click on the subscribe button below.


Go to Software Update in MyCAD.
Choose licenses and get the quote for the Update.
Install the latest version and Register on Gemini Shield.
Frequently asked questions

Where do I find the latest version of Gemini applications?
You can find installation files of all our latest versions under Installation Kits in MyCAD.

Does the new software require hardware upgrades or a computer with better specifications?
Our current recommendations are:

Minimum: 2.5 GHz Processor base frequency i5 6th Generation Processor or equivalent, 4 GB of RAM, Windows 10 (64-bit) Pro or Enterprise edition, display resolution: 1920x1080px

Optimum: 4.0 GHz i7 7th Generation Processor or equivalent, 8 GB of RAM, Windows 10 (64-bit) Pro or Enterprise edition, 2 x 24" Monitors with display resolution of: 1920 x 1080px
I have the software installed on multiple workstations. Is it necessary to update them all?
We strongly advise you to update and install the latest version of the software on all your workstations. This is the only way we can guarantee full compatibility between applications and no downtime in the product development process.
I am not using some of the licenses and I don't plan to use them in the near future. What are my options?

If you are not using or do not plan to use some of your licenses, we advise you to remove them from your USB Dongle. You can do this by "parking" your licenses into MyCAD account of your organization. You can reload these licenses back to the USB dongle at any time. For more information or help regarding your licenses please contact us through Service Desk.

Can I cancel the Software Update Subscription?
You can cancel your subscription at any time. Canceling will prevent a renewal action at the end date of the current Update Subscription. If you subscribed to monthly payments with a 12-month commitment, you are expected to honor the contract until its expiration. Gemini CAD Systems will continue to offer update services until the end date of the current subscription period and will not issue any refunds for cancellations made prior to the contractual renewal date.

What happens if I cancel Software Update Subscription?
If you cancel your Update Subscription, you will revert to the "latest allowed version" you purchased before subscribing to the Software Update. You can check the "latest allowed version" for each license in your organization on the License page in MyCAD. You can find installation kits of your lifetime license in the "Installation kits" section of MyCAD. Please note that files created with the new version of the software are not readable by old versions, so we strongly advise you to save your models with "Save as compatibility mode" functionality. The functionality will allow you to save your files (models, orders) in a software version of your lifetime license and keep important data intact.

What are the accepted payment methods?
For your convenience, we accept Visa and Mastercard.

How secure are my payments?

What happens if my payment fails?
If the attempted payment fails, within minutes, you will receive an email alerting you of the problem. In the following days, we will attempt to process the payment again. If the issue is not resolved 10 days after the payment failure, your subscription to License Update will be stopped and all relevant invoices will be cancelled. You will not be able to use your updated version until you subscribe to License Update again with a valid payment method.

Feel free to get in touch. We are only an e-mail away!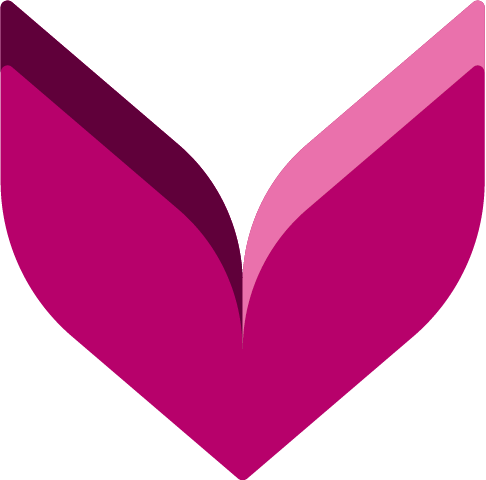 THINK DIGITAL. DEVELOP AND PRODUCE WITH GEMINI. ​
With over 15 years of innovation and more than 18.000 installations around the world, GeminiCAD Systems is a leading supplier of CAD/CAM solutions for the Apparel Industry. From garment development and production management tools to web integration, cloud processing, and cutting machines, GeminiCAD Systems offers a full suite of solutions for both mass and on-demand apparel manufacturers. Visit geminicad.com for more information.